Customers -

Your Online Dealer
Your Online Dealer is America's Virtual Showroom for purchasing and leasing a new or pre-owned vehicle. From the multiple dealerships inventory, a simple or complex search can be run in a matter of seconds to find your next vehicle. Once a vehicle has been selected, an on-line chat (video and/or audio) can be initiated to speak with a vehicle consultant to complete the deal.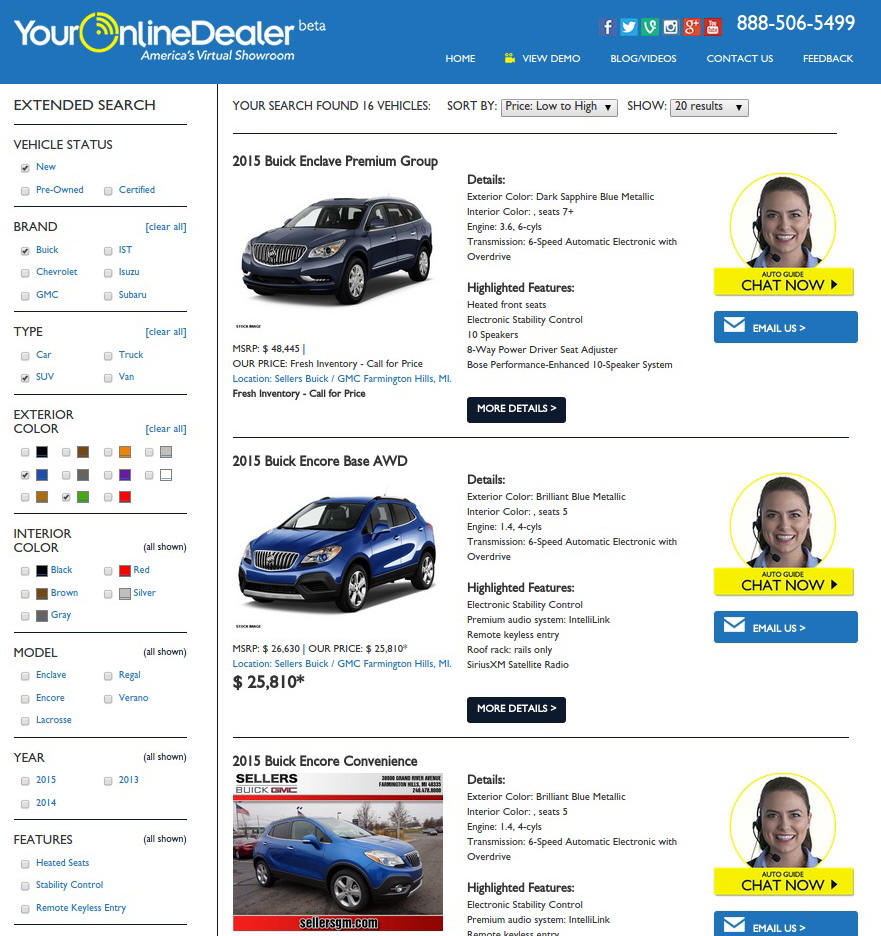 Search Results from an on-line vehicle search
SES was subcontracted in 2014 to design and develop the MySQL database and user friendly search engine for YourOnlineDealer.com. The database was designed from scratch and contains all of the vehicle details for new and used vehicles from 4 auto dealers. It has also been optimized to run very fast complex queries so the customer has a qreat user experience with quick results. The search engine is written in PHP and contains 11 groups and more than 70 choices to customize the search for a customer to quickly find the exact vehicles that match the options and criteria selected. The search options can easily be added or changed to provide the maximum flexibility from the search results for the customer. Once a vehicle has been located, a chat with the dealership representative can be initiated with a single click.
The vehicle inventory is updated daily from an unattended application that runs early in the morning to maintain an up to date inventory of new and used vehicles. This data is provided from the dealership's internal system.
A complete password protected back end database application was also written for the staff to be able to maintain color equivlents, select highlighted vehicle features, and run management reports.